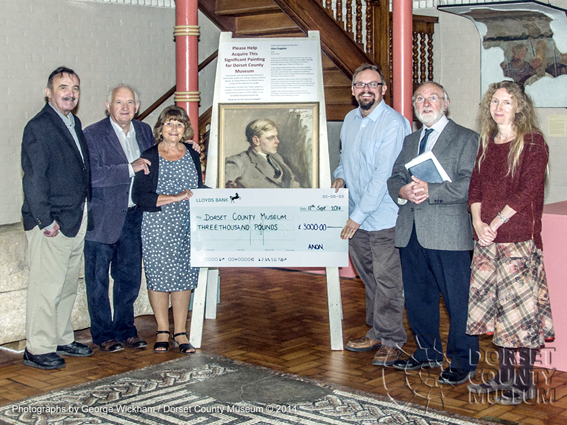 Museum fundraising event great success
Staff and volunteers at Dorset County Museum are thrilled with the success of a fundraising fair held in Dorchester on 30th August.
A total of £600 was raised by the event through many home and produce stalls, children's activities and refreshments plus a raffle and tombola. The funds were supplemented at the end of the day by a surprise donation of £3000 made anonymously. This generous donation will enable the Museum to secure an important portrait for the William Barnes Gallery, a painting of Giles Dugdale. Dugdale was a founding member of the Museum and played a crucial role in bringing the literary genius of William Barnes, Dorset's greatest dialect poet, to light. The Museum had already received £500 from the William Barnes Society towards the purchase of the portrait. The balance of the money raised will be put towards the refurbishment of the William Barnes gallery in the Museum.
Town Crier Alistair Chisholm opened the proceedings at St Peter's Church hall and read a poem especially written for the day. Dorset folk musician and storyteller Tim Laycock performed a range of Dorset songs to a highly appreciative audience.
Marion Tait, Honorary Curator of the William Barnes collection at the Museum organised the event together with Museum Trustee, Liz Arkell. Thanks also go to other members of the Museum, the William Barnes Society, St Peter's church choir and the many friends and local businesses whose time and support made the event such a great success.
More news