Tea, Scones and Poetry
By Marion Tait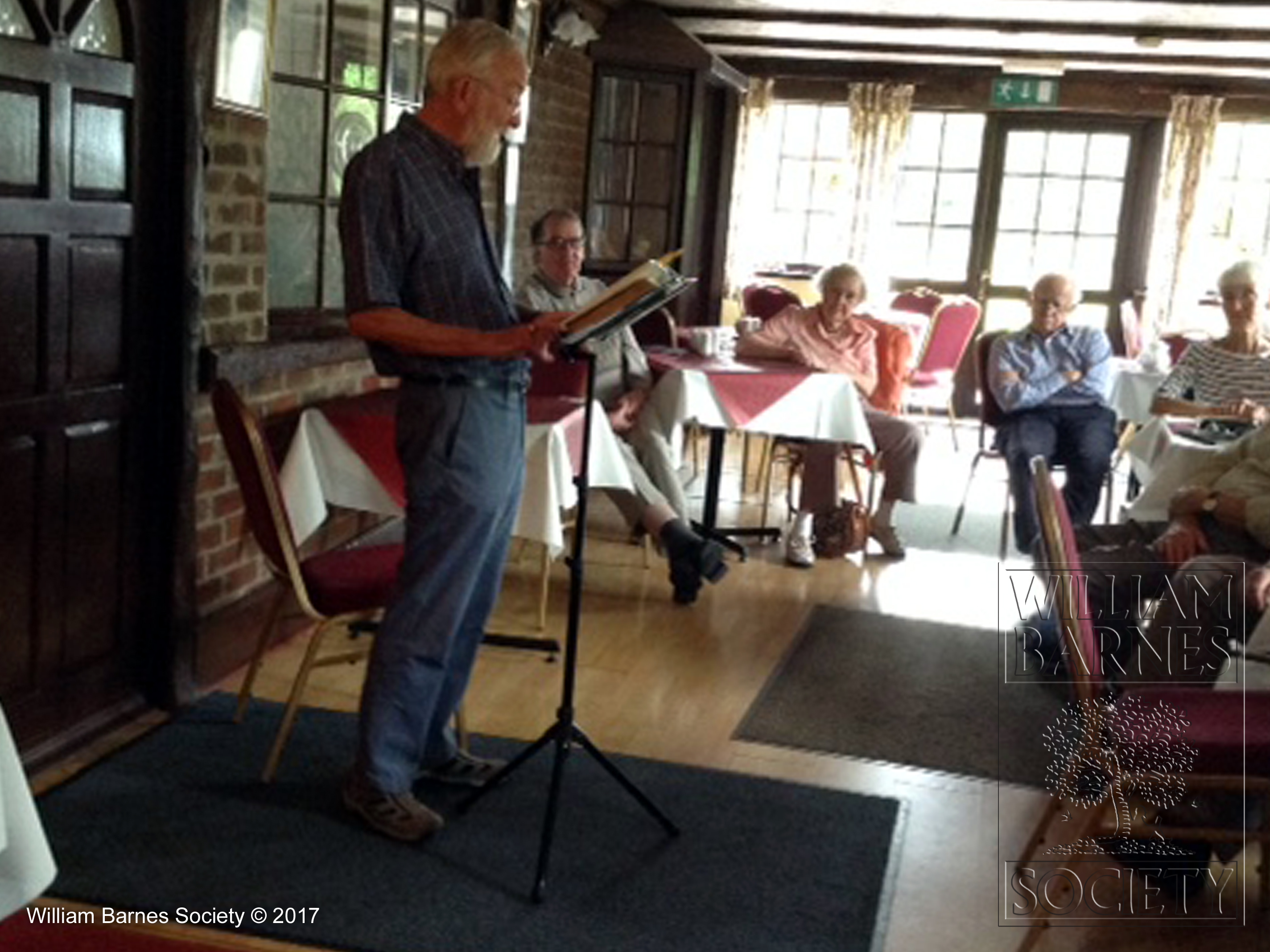 On a very warm, sunny afternoon in July, members from the William Barnes Society visited Pine Lodge for a cream tea and poetry readings.

Pine Lodge is situated in the beautiful Dorset countryside in Lower Bockhampton not far from Dorchester.
Thirty members were warmly greeted by Brian Caddy, Chairman, at the Tea Rooms. After viewing and purchasing from the merchandise stall members made their way to tables which had been carefully prepared for the tea.
In no time at all the plates of delicious scones, jam and clotted cream were served accompanied by refreshing pots of tea. The scones certainly played centre stage being freshly baked straight from the oven and as light as a feather. The discussions centred round how to eat a cream tea: was the jam spread first on the scone and then cream on top or was it the other way round? Not forgetting the pronunciation of the word SCONE which proved to be hilarious.
After tea, members relaxed and listened to chosen 'poetry' readings including:
Alan Chedzoy, Eclogue 'The New Poor Laws', William Barnes 'The Curate's Kindness' and 'Rose Ann' by Thomas Hardy.
John Tait, 'Clearin oot da Handbag' by Rhoda Butler. Shetland dialect.
Keith Hooper, A humerus look at Whitehall Wisdom, Let Us Pray,
Hymn O Thou Who Seest All Things Below and Benediction.
David Guy, 'Haven Woone's Fortune a-twold' by William Barnes.
Devina Symes, 'Uncle an' Aunt' by William Barnes.
Brian and Anne Button, 'A Bit o' Sly Coorten' by William Barnes.
David Downton, A sketch 'Surely Sam' and poem entitled 'Zummer' taken from GPR Pulman's 'Rustic Sketches' written in the East Devon dialect.
Brian Tait, 'Adlestrop' by E Thomas.
Brian Caddy, 'As I Spied Swallows Scything' by Felix Dennis and 'Hay-Meaken' by William Barnes.
Marion Tait, 'Solace of the Fields' by William Barnes.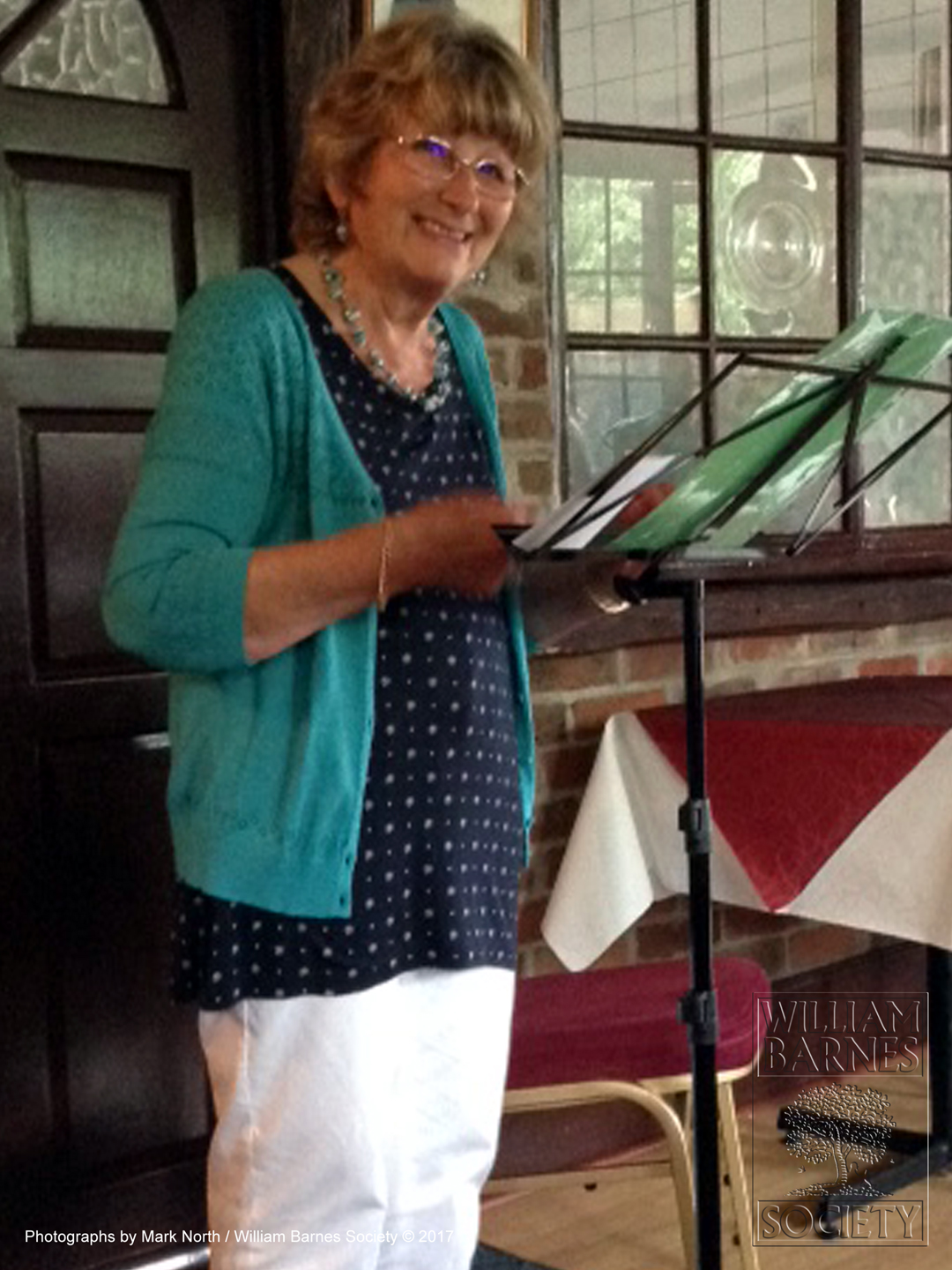 The reading by Secretary, Marion Tait was of a recently discovered and unpublished poem in National English by William Barnes 'Solace of the Fields'. It had been purchased at a sale in Dorchester in April by Julian Nangle a very well respected book dealer. The four verse poem was in Barnes handwriting and framed between two sheets of glass with a footnote W.B. Mrs Hodding with kind compliments.
It was not dated. Barnes handwriting was still relatively neat and the poem was obviously written prior to rheumatism causing Barnes handwriting to deteriorate quite dramatically. Rod Drew, Brian Caddy and Julian Nangle were able to produce a transcript before the item itself was sold to the Cushing Memorial Library Archives, University of Texas.
Marion's reading was the first time 'Solace of the Fields' had been read to members at a William Barnes Society event.
Time came too soon for fond farewells. It had been a very relaxing afternoon spent with like minded people enjoying delicious cream teas, listening to readings and at times the dulcet tones of a clock chiming and the gobbles from a turkey heard through an open window, who had decided to join in the merriment.
More news