John Blackmore captivates Society members
By Marion Tait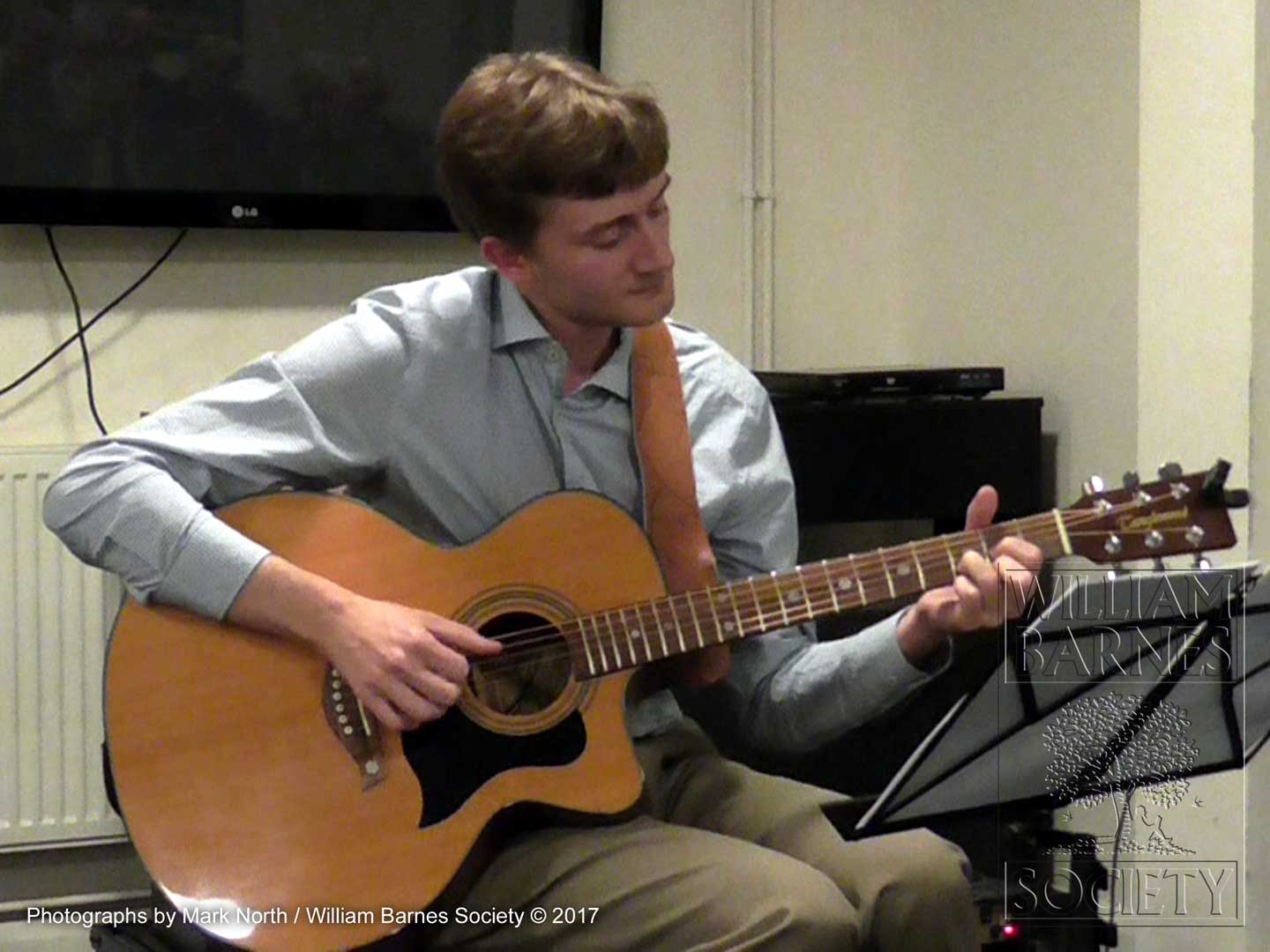 Following the recent William Barnes Society Annual General Meeting, held on Tuesday 10th October, John Blackmore presented 'Music and Song' to the audience.
John Blackmore's settings of William Barnes' poems originally formed a part of his undergraduate dissertation "West country Sound and Song". Inspired by Vaughan Williams' settings, John sought to return William Barnes' poems to popular consciousness through music, specifically for a twenty-first century audience.
While Vaughan Williams' piano and vocal arrangements have a distinct classical flavour, John uses guitar and voice to create a warm, folk-song feel, which certainly match Barnes' 'Hwomely Rhymes' In fact, made for each other.
During his performance, John drew attention to the musicality of Barnes verse and the beautiful but complex rhythms and structure that make Barnes work distinctly Dorsetian. Despite many of Barnes' poems sharing the five stanza structure, each of eight lines, John highlighted with sensitivity how the context and focus of Barnes' poems varied greatly, and demonstrated how he took this in to account with his settings.
John's song "Blackmwore Maidens"Â  "Blackmore by the Stour" sounded softened and gentle while "The Geate a-vallen to" setting was so meaningful, and sent emotional shivers down your spine. Both these poems were similar in style and structure and so very beautiful.
John also previewed a new Barnes setting: "The Stagecoach". He had visited his Irish roots to 'get a lilt' going.  Here John recreated the driving rhythm of the wheels: went swiftly roun' rottle roun' trundle roun' truckle roun'. You could truly visualise the stagecoach on its journey through all seasons "while the whip did smack and the whip did crack on the ho'ses' back"
It certainly was a toe-tapping composition with all feet tapping along enthusiastically.
Keeping with similar momentum John finished his performance with "Gone to London" which he had written for his brother who had left the countryside for the bright lights of London.
All too soon the 'Music and Song' came to an end. It had been a real privilege and pleasure to have shared the experience of listening to such a talented young musician as John Blackmore whom I'm sure would have thrilled William Barnes.
More news